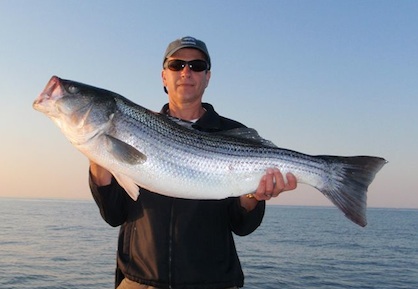 New England Boating – TV Show about Clinton, CT
Harbor Tour and Fishing with Capt. Jack!
Watch here!
PRIORITY ONE CHARTERS, INC.
Capt. Jack Bucchi
U.S. Coast Guard Licensed Captain
Fully Insured
CT FISHING LICENSES ARE NOT REQUIRED
Capt. Jack Bucchi has been the owner/operator of Priority One Charters for over 29 years
CT Fishing Charters aboard
"Priority One"
30′ Pursuit 3000 Offshore
Sailing out of Cedar Island Marina in Clinton, CT
Fishing Long Island Sound for
Striped Bass, Bluefish, Fluke, Black Sea Bass, Blackfish and Porgy
We have great fishing within 4 miles of port, which means more time fishing and less time traveling!
The world record Striped Bass (81 lbs.) was caught 3 miles from our dock!
We use various fishing techniques to make your trip as productive and enjoyable as possible.
Our favorite method of fishing is to make short drifts over prime fishing areas with live bait, fresh bait, diamond jigs, or butterfly jigs.
At times we might also troll wire line or braided line with parachute jigs, tube and worm, or umbrella rigs.
We use only the finest tackle to match each fishing method. We prefer to use light tackle whenever possible.